2016 – Review – Night of Terror – Mullica Hill, NJ – 10/7/2016
Posted by Sandman
Posted in 2016
Posted : October 10th, 2016

This is the first year ii did not go on opening night. So I was expecting a large crowd and planned on purchasing VIP tonight. I was quite surprised that they had a VIP combo ticket that include the Haunted Paintball Hayride. I always have fun coming to this place and this year was no different. Although they don't have much else beside the attractions, it always has been on my must do list year after year.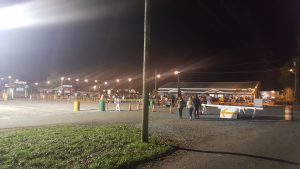 2015 Rating
Attractions:       4
Atmosphere:     3
Fear Factor:      3
Actors:               3
Fun/Value:       4
Overall:          3.4
---
Attractions – 4 out 5 Stars
Night of Terror has 6 attractions and 1 additional option. Although, 3 of the attractions are only accessible at the end of the hayride. All of the attractions were attended here, so there will be a review for everything. Here is the rundown: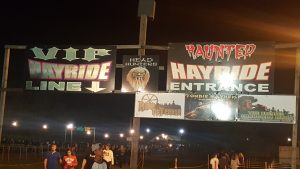 1. Ride of Terror Hayride
If there is something that they change every year, its the hayride. This year they changed it up again. Although they kept the same animatronics in place, they were placed in new areas. Some things were kept the same, especially the themed barns. But there were some new things. One of the newest things this year were the wagons. Night of Terror always had wagons with seats made of hay bales, and steps on the back that provided easy on and off, as well as a way for the monster to enter the hayride. This year, they used new wagons with wooden benches. I kind of missed the hay bales, but these were comfortable, and still allowed the monsters to enter the hayride.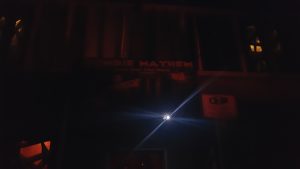 2. Zombie Mayhem
This is the first stop after the hayride lets you off. Its still the same as last year, with some minor changes. The front of he place is depicted as a decrepit old house. Other than the detail of the front of the attraction, the rest is not detailed as well. The inside is a maze complete with actors to intensify the experience and air bag obstacles to slow your pace. Its a fairly small attraction as you can quickly move through it. Its more of a filler attraction, as its a small addition to the hayride. However, it does add value to the haunt.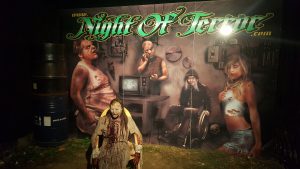 3. Cornfield Maze
Having a corn maze means you should change up the path every year. Unfortunately, its the same year after year. The maze is nothing more than walls with cornstalks attached. Changing the path should be relatively easy as its a really small corn maze. Most corn mazes in the area change the path year after year. Because it doesn't change, it is really easy to get out and provides no value to the haunt. Its nothing more than a filler or barrier between the Zombie Mayhem and the Head Hunters attraction. Its one of those things that they could get rid of and it would not be missed.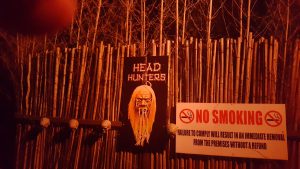 4. Head Hunters
Like a lot of their attractions, they are re-using the same them as last year. Now I do get they need to recoup their investment in a new attraction, but the re-use dramatically reduces the value each year. However,I must say, I did enjoy the Head Hunters. There seemed to be fewer actors in there this year, but that was just my perception. The actors do interact a little more in this one, in which I feel they really need to in order to pull of the head hunter theme. Still, its a unique attraction that no one else is doing.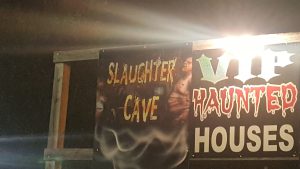 5. Slaughter Cave
Slaughter Cave is a very elaborate walk through. They really go all out with the layout and details. You really feel like you are walking through a cave that is run by blood thirsty pirates. Although, it seemed that there were not many actors in here as it was mostly a walk through with some obstacles. They do use animatronics to fill in the areas where they don't have actors. Overall, it wasnt as scary as it was last year, mainly because it didn't have the actors needed. However, they were placed in the key areas of the attraction.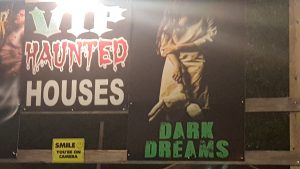 6. Dark Dreams
Last year was the first year this attraction was put in. For the second year, nothing was done to enhance the experience. Compared to the Slaughter Caves, the detail in this place in very amateur. Its a maze like interior, black painted walls, with rooms to emulate some nightmare themes. I was really hoping they enhance this attraction, but it doesnt seem anything was really invested, except for 2 animatronic wolves, that were larger than life. It was as scary as last year, but that may have to do more with the attraction being exactly the same, and not being surprised walking through.
Additional Option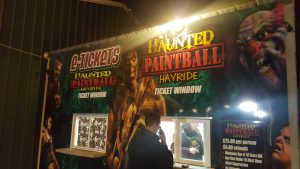 1. Haunted Paintball Hayride
You pay an additional fee – $25 – and can purchase additional paintballs for an additional $5. The wagons feature bench seating with plenty of guns attached. A sound system is used on the wagon to add music and sound effects, which adds to the experience. Lost of actors running around to shoot and you will definitely refill once or twice. This is a really fun attraction and I high recommend you participate in this attraction.
---
Atmosphere – 3 out of 5 Stars
Its a typical farm setting with parking out in the fields. There are attendants to control the parking. The main concourse has plenty of areas for purchasing tickets. Including a special area for purchasing paintball tickets. Not much else is going on in the center area, but there is a focus on the store they have, they do sell lets of jams, jellies, candies, and even Halloween decorations. My favorite is the apple cider they get from Mood's farm. Its the best apple cider out there as it is truly apples fresh from the trees. Down closer to the exits of the haunted houses, they do have some food trucks selling french fries and funnel cakes, as well as hot dogs. But other than this, its pretty bland.
---
Fear Factor – 3 out of 5 Stars
The haunts weren't as scary this year. I'm not sure if its because there seemed to be fewer actors this year, or they just were not as good as the year before. The hayride was the worst in the fear factor, however Dark Dreams seemed to be scary one again.
---
Actors – 3 out of 5 Stars
There seemed to be fewer actors this year. As well, they just didn't pull off the scares like they did last year. Hayrides have always been hard to pull off, but the Bates Motel showed that it could be done. All the actors did was run up the Hayride and growled at everyone. Not exactly that scary. However, I am not sure there is much they could do. Also, the attractions don't really lend themselves to provide the actors with the opportunities to pull off the scares.
---
Fun/Value – 4 out of 5 Stars
This is still a fun place to visit. With the $75 VIP combo ticket, it was the best value I have seen so far. Although the night I went there were lots of people, I really didn't need the VIP except for Dark Dreams, which had a very long line. However, its still early in the season, and VIP is always the best option. I highly recommend visiting this place.
---
Photos
Check out these additional photos from the attraction