2016 – Review – Field of Screams – Mountville, PA – 10/15/2016
Posted by Sandman
Posted in 2016
Posted : October 31st, 2016

Since the Hurricane derailed our initial plans, we followed up the visit the following week. The place was packed. We didn't park in the usual place. They were parking cars wherever they could. Lines were extremely long and thankfully we purchased VIP tickets. Its amazing on a busy night like this that more people don't purchase VIP, especially on a rare chilly night. To control the crowds, some attractions implemented a chute system. Where they placed people into a group, and when the green light for the chute was lit, they would enter the attraction. It was a good way to help get the lines moving and get people staged to enter the attraction. All said, the place is still amazing.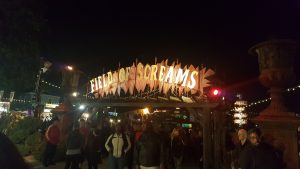 2015 Rating
Attractions:       4
Atmosphere:     5
Fear Factor:      2.5
Actors:               3
Fun/Value:       4
Overall:          3.7
---
Attractions – 4 out 5 Stars
Field of Screams now has 4 attractions, including a Hay Ride. You can choose which attractions you want to enter at anytime, although they do recommend doing the Hay Ride first as that tends to close earlier. This year, there were recommendations on which attraction to visit next, to help alleviate the crowding. Everything was visited here, so all will be reviewed. Here is the rundown: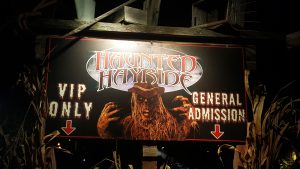 1. Haunted Hayride
This hayride always has an extremely long line. To keep the crowd motivated, they do have a DJ playing music as you wait. The wagons are filled with people sitting on the side and in the middle.There are no seats, so you are sitting flat on the wagon. Each wagon is equipped with a sound system, playing theme music and sounds for each of the stops, There are several themed stops, including the famous first barn, which is a fan favorite each year. However, its still the same themes as last year, with a few minor enhancements. There didn't seem to be as many actors this year, However a few themes were interacting with the crowd, so it was enjoyable.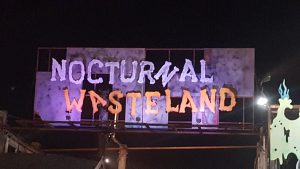 2. Nocturnal Wasteland
This is an outdoor walk through, filled with obstacles and extremely detailed scenes. Once again, there we hardly any actors in here. It was actually worse than last year. They didn't even have as many realistic looking mannequins this year. What is surprising was how long the line was, especially for a very boring attraction. Even when you enter the attraction, it was a steady stream of extremely slow walking and not well controlled. If this was not included in the combo VIP ticket, I would recommend skipping this attraction. Although, it is highly detailed and it may be worth just to enter for that experience.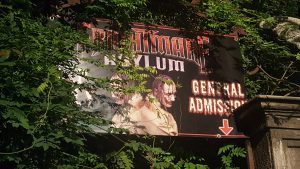 3. Frightmare Asylum
This is one of the few attractions that they seem to change up year after year. What is amazing is that it appears to be a solid frame structure which generally does not allow for such customization. Once again, they go all out with the details and provide an experience like no other. The actors in here were a tad light, in which it could have used a few more actors. This is one of those attractions that they did not implement the chute system. So the line to get in was extremely long. rumor has it that the wait was about an hour and a half.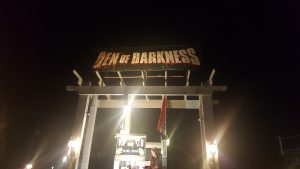 4. Den of Darkness
The line to get into this attraction was altered slightly with the addition of the chute system. The ticket agents were actually in the middle of the line area so they could check in the tickets and then people would wait to enter the chutes. The attraction itself did not change from last year, however, there seemed to be a few more actors in this one. They have kept the 1920's themed room for 3 years now, and to be quite honest, it does not work. They pack it with actors, but they mostly jut stand and sit around, interacting very little with the crowds.
---
Atmosphere – 5 out of 5 Stars
One of the best parts of this place is the carnival like atmosphere they bring. They always seem to have some sort of entertainment on their stage. They have lost of food trucks for snacks and plenty of game of chance to play. They even have a shop to purchase Field of Scream items. Although the crowd was massive, you can still find a place to sit and watch the roaming clown scare people. Although I am not a fan of large crowds, this takes an exception because its the crowd that makes the experience come alive.
---
Fear Factor – 2.5 out of 5 Stars
This year was not as scary as last year. This is most likely due to 2 factors: not enough actors and the massive crowd. Although it was still enjoyable, it was pretty mild in the scare department this year. However, I do believe some people will find this scary, but when you been to as many haunts as I have, it just didn't stack up.
---
Actors – 3 out of 5 Stars
There seemed to be less actors this year at all of the attractions. Nocturnal Wasteland was the worse for staffing. However, with the large crowd that attended this night, I wonder if the actors suffered from exhaustion, as the people just kept moving and moving through. To perform for several hours in the same spot can get repetitive and boring, and I believe it showed this year in the quality.
---
Fun/Value – 4 out of 5 Stars
This place is always fun to attend. Although it wasn't as good as years before, I will always make this a destination. Hopefully next year it will be better staffed and we go on a less crowded night. For the price, there is a lot of value here, especially for VIP. I strongly suggest purchasing VIP if you go. Its well worth it.
---
Photos
Check out these additional photos from the attraction